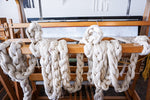 Draft Programs for Beginner Weavers
A brief discussion on how to get started with computer-aided programs. (non-sponsored)
I first started making my drafts with some simple grid paper and markers. And those tools are still sometimes the best way to go if you want to get down an idea quickly. But there are also some programs out there to help you work out more complex drafts or quickly change colors and treadling without redrawing your whole pattern.
You can explore some beautiful color combinations and color plays when you take the time to sketch and pick yarn before starting your projects.
I'm not always great at doing this, but one thing that has helped has been using the WeaveIt app on my iPad. You can also use this on the computer or even smartphone, but the larger screen and touch features of the iPad have been ideal for me.
The iPad app is also a little cheaper at around $23 versus the computer download at $160.
If you've never written a draft before or are unfamiliar with the parts of a draft and how to read it check out my post about Weaving Drafts here.
There are also other programs that weavers use like Fiberworks, PixeLoom, and WeavePoint. If you jump over to any of their sites get ready for a time warp… they are all stuck in the 80's, but the programs work. They all have various pros and cons, one major difference between them is only WeaveIt and PixeLoom are available for OS. Fiberworks tends to be a favorite among professional weavers or those running computerized looms needing highly complex drafts. I can't speak on these as I've only used WeaveIt and it has been enough for my business so far.
WeaveIt does take some practice and reading to get started. In some ways its a very simple design, while being a more complex program than you think. I'll try to get you started here.
To get started, download WeaveIt from the app store and open the app.
Create a New Document
Select the gear icon at the top right of the screen and select Pattern Setup.
Set the number of Shafts and Treadles you have on your loom, or that you know you will use for this pattern. (You can change other settings here, but I keep mine on Use Treadles and Use Rising Shed). Select Accept.
Now you can tap on the rows at the top of the draft designating your warp threading. Simply tap on the square you want your warps to be on. To fix a mistake just tap on the square it should have been on. Select Done when you've hit your repeat.
Now tap on the boxes in the corner depicting your treadling. Similarly, just tap the boxes you want your tie-up to have. To erase a dot just tap it again.
Once your warp and Tie-up are input you can start laying out your pick order by taping the columns on the right and tapping each square you want to pick. This is where it gets fun because your pattern will auto-populate at this point giving you an idea of what your draft will look like.
To change the colors of your draft select the gear icon again at the top right and select Color Setup. From there select a color block you want to change, find the color on the color wheel and then hit Set Color. Change the saturation with the slider.
Once you've chosen all the colors you think you'll use in your draft select Done and then tap the portion of the draft you want to change (warp or weft.)
Select the color you want to use from the color bar and then tap the colored blocks or numbers you want to change. Select Done and do the same for any other threads you want changed.
You can automatically repeat the design by selecting the small square icon next to the gear at the top right, or select it again to undo.
Once you are happy with your design save it! Select the gear icon and select Save. Rename your pattern and select Save or Rename. To start creating another pattern hit that gear again and select New/ Open/ Files.
I hope this has been a good intro to ways apps and programs can help you get started exploring the variations of weaving!