you deserve more than fast-fashion
When you choose textiles that will stand the test of time you're investing in
every life it comes into contact with.

All our products are hand made in small batches using natural materials. When you choose quality over quantity you keep more chemicals and waste away from your family and the Earth.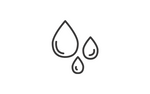 Small batch goods require far less water than manufactured goods. When you buy from Daughter, you are helping to reduce water consumption.
Choosing longer-lasting products means less waste ends up in landfills. Plus, all our textiles are woven with natural materials that are safe for the environment.
We don't use any added chemicals on our textiles which means those chemicals are not going into water sources or into your home.
"Such a friendly business that is very helpful and super responsive!"

Bridget M.

"Fantastic Customer Service"

Emma W.

"I will buy from this shop again!"

Sheila L.
Get ready for the holiday season
shop the look